5-star review from Coaching at Work magazine!
Honoured to have been given a 5-star review for my book Brief Strategic Coaching featured in Coaching at Work magazine. It was given by Liz Hall, the magazine's editor, a coach and a published author herself. Thank you!
Interviewed by Indian psychologist Dr Puja for her campaign.
Two colleagues talking psychology. Dr Puja is a a psychologist based in India and has started a video awareness campaign on psychology in a help to minimize bad practices.. Will share the video link soon.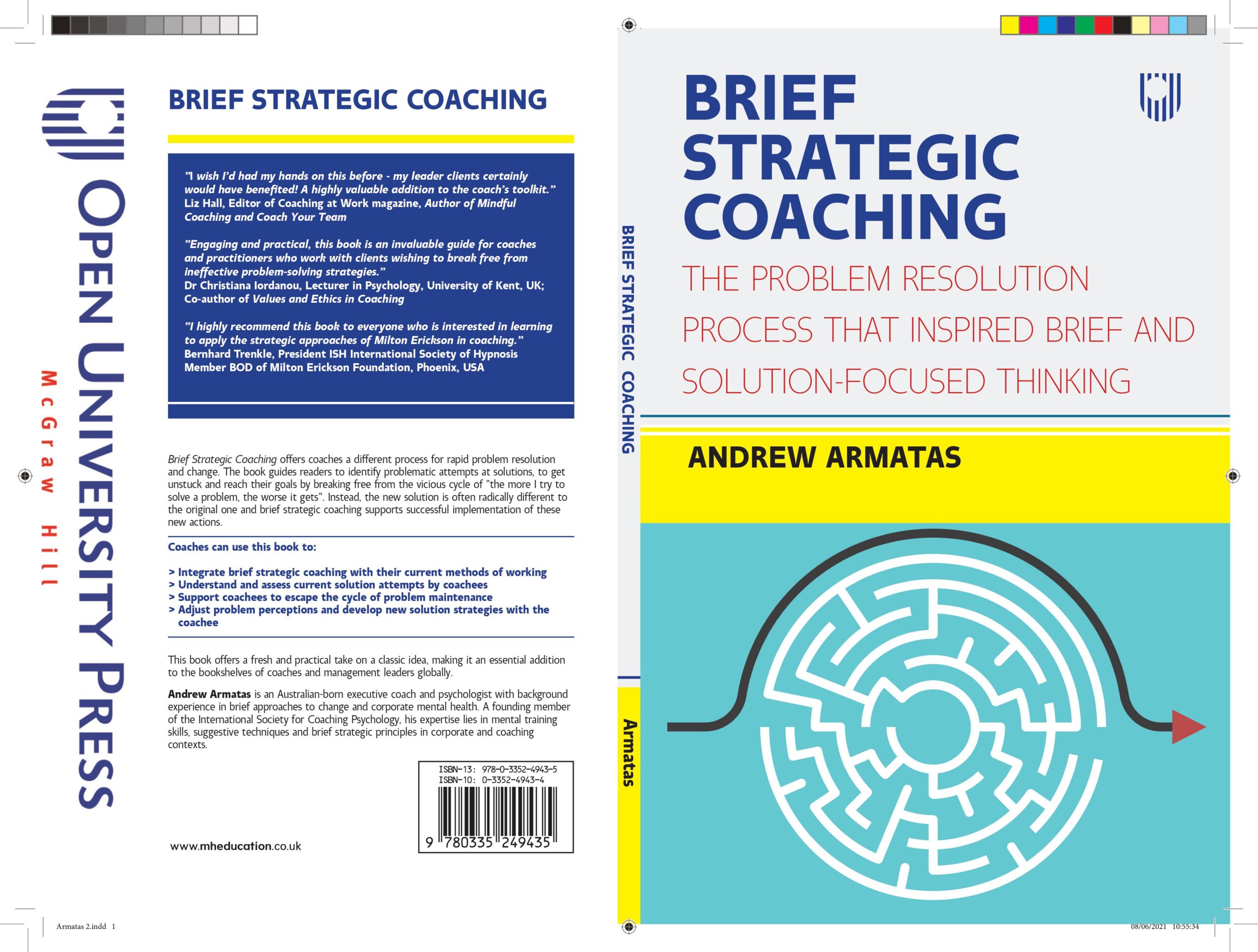 Brief Strategic Coaching book has just been released!
I am happy to announce that my new book 'Brief Strategic Coaching' has been released. It is a guidebook for professional coaches, counsellors and managers. Click here to learn more about the book.
Invited speaker at the annual Athens Coaching Talks 2021
Invited to speak at the annual coaching forum on why we get stuck in a problem maintenance vicious cycle and how to break free from problematic solutions that keep us stuck. This event has ended,
Associate editor at Coaching: An International Journal of Theory, Research & Practice
Announcing my term as Associate Editor of 'Coaching: An International Journal of Theory, Research and Practice which is a collaboration of Taylor & Francis with the Association of Coaching and Institute of Coaching (Harvard).
Published teaching case study for Sage Business Cases on how Microsoft's solution backfired.
'How the Solution Becomes the Problem: The Performance Solution that Backfired at Microsoft' is a teaching case that explores how solution to boost performance at Microoft became a liability. Learn the brief strategic perspective on solution by clicking here.
Collaborating with Unilever in recognition of World Mental Health day offering bite-sized workshops.
Collaborating once again with Unilever to promote the mental well-being of their employees. In recognition of World Mental Health day a series of practical workshops were delivered. After all, happy employees make happy companies.
Kenote speech at Oxford Brookes University's annual coaching and mentoring confernce.
I am honoured to have been invited to be a keynote speaker at this year's annual coaching and mentoring conference organized by Oxford Brookes University. How are our solutions maintaining or aggravating our problems? How can we change that?
Suggestive techniques webinar at Germany's Mentale Starken Kongress
Glad to be invited again to speak at the Germany's Mental Strengths Congress (online this year). My webinar is titled 'Suggestive Techniques in Coaching'. It's all about meeting client needs through suggestions.
In the green room for the University of Athens Health coaching course.
Recording the first module of the health coaching e-course which will be offered at the University of Athens. This is the first University health coaching e-course offered exclusively for health professionals.