Brief Strategic Coaching: The Book!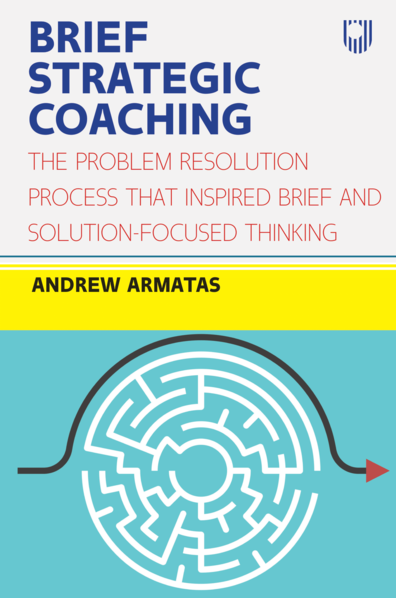 Brief Strategic Coaching is a professional guidebook that offers a different process for rapid problem resolution and change. Its core concept revolves around the idea that our problems are created by our solutions. Think of what happens when you try to cheer up someone who is depressed, how increasing control over one's performance may cause it to plummet or how attempts to enhance mental control by suppressing thought can have the opposite effect.

The central ideas of the brief strategic process

1. The solutions we apply in order to overcome our difficulties become the reason our problems are maintained, worsened or even multiplied. As we continue to apply faulty solutions, we enter a vicious cycle of problem maintenance where the more of the same solution makes the problem worse.

2. Since the problem lies in the solution, rather than analyzing the problem situation, the brief strategic coach assesses the coachee's solution attempts.

3. When the attempted solutions have been explored, the focus shifts to breaking the faulty solution pattern by introducing a new solution strategy which also requires a change in problem perception.

4. The new solution is radically different than the original one. Because of this often-dramatic shift in direction, specific brief strategic strategies are utilized to achieve successful implementation.

5. Brief strategic coaching is process-based and it does not exclude current ways of working. It can be added to the existing approaches that coaching professionals already follow.
Brief Strategic Coaching offers
a fresh and practical take on classic idea that has inspired generations of professionals and many approaches that are widely in use today.
COACHES CAN USE THIS BOOK TO:
► Integrate brief strategic coaching with their current methods of working.

► Understand and assess current solution attempts by coachees while discerning which
solutions are creating problems.

► Support coaches to escape the vicious cyle of problem maintenance and get unstuck.

► Adjust problem perceptions and develop new, effective solution strategies with the coachee.
Inside the book
The book's first chapter is an overview of the brief strategic approach including history and originsand is followed by chapter two which explains the attempted solutions theory; the logic upon which the brief strategic approach was developed. It discusses how problems are formed and maintained over time by our very attempts to solve them.

Chapter three introduces common strategic strategies used to enhance the prospects of goal success before moving on to the actual brief strategic process of change.

In the book, the strategic process has been broken down into three stages to make it easier to understand and implement.

Chapter four covers the first stage – referred to as the clarification stage – during which the problem is defined, the desired goal is clarified and the first minimal steps are set.

Chapter five describes the exploration stage which is the second part of the strategic process. It involves investigating and assessing attempted solutions in order to determine the maladaptive ones that are creating and maintaining the problem. Understand which solutions will replace the problematic ones. Chapter six discusses the final action stage during which vastly different new solutions are introduced and implemented by the coachee in order to create the desired change.

Strategic case-related dialogues are depicted in that will aid with the application of the model and how it is put into practice.

The final chapter offers food for thought and encourages strategic reflection; could we, in our attempts to help our clients or employees, inadvertently become part of the problem?.
THE THREE STAGE BRIEF STRATEGIC PROCESS DETAILED IN THE BOOK
CLARIFICATION STAGE
Define, Clarify, Set! Learn how to start the brief strategic process by defining the problem, clarifying the goal and setting the first minimal steps.
EXPLORATION STAGE
Learn how to investigate and assess attempted solutions. Learn to detect the solutions that are creating the problem and how to develop new solutions.
ACTION STAGE
Understand how the new, often drastically different, solutions are introduced and how to support the client in implementing them until the desired change is achieved.
"I wish I'd had my hands on this before – my leader clients certainly would have benefited! A highly valuable addition to the coach's toolkit."
Liz Hall, Editor of Coaching at Work magazine, Author of Mindful Coaching and Coach Your Team

"Engaging and practical, this book is an invaluable guide for coaches and practitioners who work with clients wishing to break free from ineffective problem-solving strategies."
Dr Christiana Iordanou, Lecturer in Psychology, University of Kent, UK; Co-author of Values and Ethics in Coaching

"I highly recommend this book to everyone who is interested in learning to apply the strategic approaches of Milton Erickson in coaching."
Bernhard Trenkle, President ISH International Society of Hypnosis Member BOD of Milton Erickson Foundation, Phoenix, USA

"This book tells us why solutions create problems. This insightful book gives you bundles of practical strategies to tackle this conundrum head-on."
Professor Tony Wall, International Centre for Thriving at the University of Chester.

"A must have reading for ay coach. Develop your knowledge of coaching by understanding the brief strategic approach."
Sandi Kartasasmita, Lecturer at Universitas Turumanagara, Board of APCI

"Concise in size yet rich in detail, it is a must read text for novice and experienced coaches, supervisors and trainers who wish to enhance their knowledge with fresh and insightful coaching strategies."
Dr Ioanna Iordanou, Reader in Human Resource Management at Oxford Brookes University, Co-author of Values ad Ethics in Coaching

"A useful companion to my coaching literature collection. It is a good anecdote to any solution-focused coaches. The brief strategic approach would certainly be a necessary tool to add to their coaching toolbox in dealing with clients who get stuck."
Professor Ho Chung Law, Empsy Cambridge Coaching Psychology Group (www.empsy.com)
5-STAR REVIEW
""… a practical approach rooted in the core principles of strategic process and solution-focused coaching … a useful book for coaches whose clients, despite being self-aware, remain stuck, and for those supporting leaders around strategy."
Coaching at Work magazine
Issue May/June 2021
Liz Hall, Editor
THE MENTAL RESEARCH INSTITUTE (MRI)
In the late 1950s, the Mental Research Institute (MRI) in Palo Alto challenged the traditional approaches to change. It introduced the brief strategic approach which became the birthplace of brief, systemic and solution-focused thinking and it inspired generations of change professionals. At a time where the dominant theories of change were very long term, brief strategic coaching was brief by design. Brevity was not the result of necessity nor was it due to outside circumstances. It was a choice. They countered traditional thinking and supported the idea that change can come about in a brief amount of time. Even today, decades later, it still challenges common ways of problem solving.
THE PROBLEM LIES IN THE SOLUTION
In a nutshell, the brief strategic approach is reflected in the phrase: the problem lies in the solution. It is the solutions we pick that prolong or intensify the difficulties we are trying to overcome. Thus, the brief strategic coach will focus on a client's solution attempts rather than on the problem. For example, if the problem is conflict, the focus will not be on conflict per se but rather on how the client has been trying to solve it. Or if you are having panic attacks, the emphasis will be on how you've been trying to help yourself. For example, many of you may not know that deep inhaling – as a solution to counter shortness of breath during a panic attack – tends to make matters much worse rather than better.
A GUIDEBOOK FOR COACHES AND MANAGEMENT LEADERS
This book guides the professional through a three – stage process of identifying and breaking faulty solution attempts that are keeping clients stuck and resolving the problem …the strategic way. It is a content-rich, non-repetitive brief book that translates brief strategic theory into practical steps for coaching professionals and management leaders. When the client or coaching itself seem to remain stuck in a problem-maintenance pattern, it's an opportunity to apply the brief strategic approach to better understand how an illogical route can actually be the most logical way to go. Because this is a process-based model, it can be added to existing approaches without clashing with them.